I really like glutinous rice called "Okowa".
"Okowa" is made from "mochi-gome".

There are two different types of rice, one is called "mochi-gome" and another is called "uruchi-mai".
According to my view, 80-90% of rice balls that you can find at convenience stores are made from "uruchi-mai". They are not chewy texture.
"Okowa" is chewier than "uruchi-mai" rice balls.
If you put "Okowa" into a food-processor, it will become rice cake called "mochi". Now you know what is "Okowa", right?
Taste
★★☆☆☆
I really like "Okowa" but unfortunately, this one was not so good… I recommend you to get "Okowa" at a dedicated shop such as "Tagosaku". Or eat in a good restaurant.
Price
★★★☆☆
Just average. Around 300 yen.
Calorie
—–
Not sure…
Easy to get?
★★★★☆
I got this at AEON, one of the biggest supermarkets in Japan. You will see this or similar one at a deli section or a Bento (lunch box) section.
Get again?
★★☆☆☆
I don't think so. I will get one at Tagosaku or elsewhere.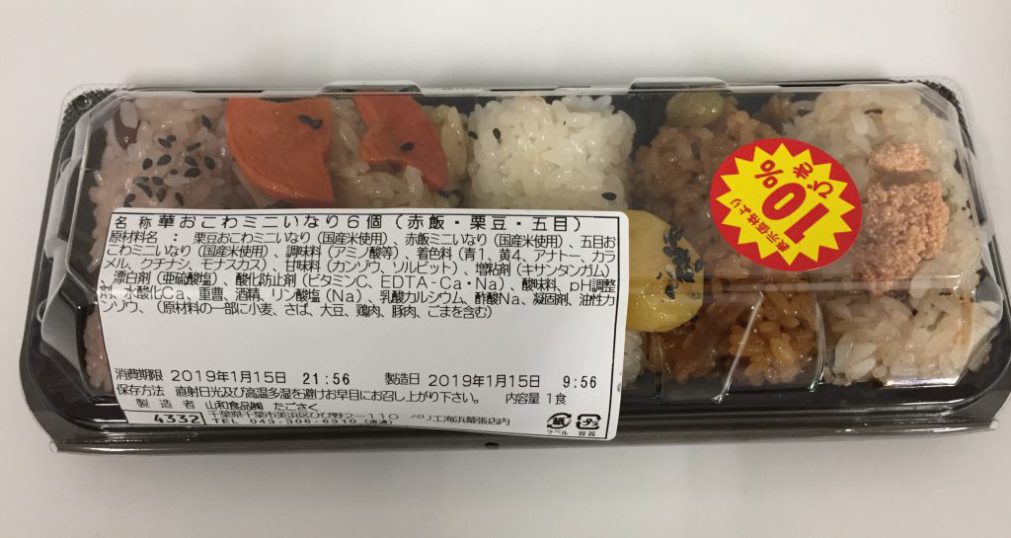 The materials may be changed in the future so
please check by yourself when you try it.
From the left,
Sekihan (red beans, salt & sesame)
Gomoku (some veges & chicken)
Kuri (chestnut)
Tori-Gobou (chicken & burdock)
Takana & Tarako (veges & roe)
—–
Please visit the post below if you would like to know better "Okowa".
—–
2019 Jan. posted.